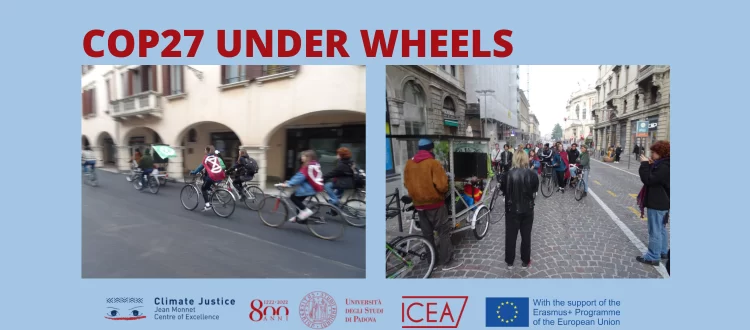 On the 12th of November 2022 there was the Critical Mass launched by Fridays for Future Padova.
Activists joined together on the streets last weekend to continue talking about climate and social justice at the same time as COP27, the most important moment of the year for global climate diplomacy.
Through the critical mass they want to denounce the contradictions of this meeting, where ecological transition is supposed to be discussed even though most of the delegates are representatives of multinationals linked to fossil fuels production.
This year's COP was organised in Egypt, a country where human rights are trampled upon on a daily basis and where there are some 60,000 political prisoners. This effectively prevented a real on-site protest by activists and also their participation for security reasons.
During the afternoon, the demonstration went through several locations around the city of Padua, from the Eni Store in Piazza Garibaldi denouncing the greenwashing but also exploitation projects that the Italian multinational is carrying out around the world, especially in Africa. Then, the critical mass continued towards the construction site of the new McDonald's (the city's fifth) in Via Sarpi and then to the Pradina Park, a green area at the centre of an important decision-making process concerning its future development.