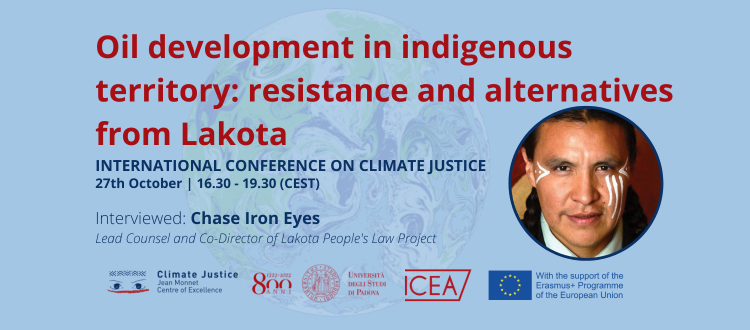 Oil development in indigenous territory: resistance and alternatives from Lakota
"Climate change for us is an awareness; it is the human species taking responsibility for what it has done, in terms of the lifestyle it has propagated around the world. It means that we have to become fully aware of what we call a modern cultural mythology, in which we see as supreme guardians or truths the efficacy of scientific rationalism, enlightenment, technological supremacy."
– Chase Iron Eyes, Co-Director of Lakota People's Law Project
"Climate change and climate justice for us means that we must return to a worldview in which we use science and technology to create harmony with the environment that gave birth to us and provided our livelihoods" these are the words from Chase Iron Eyes, Co-Director of Lakota People's Law Project. He will be one of the speakers at the II Conference on Climate Justice the 27th October.
Chase's distinguished career fighting for the civil rights of Native Americans includes serving as lead local counsel in the Dakotas for the Lakota People's Law Project, co-founding the Native news website LastRealIndians.com, and work in the Native Lives Matter movement. In 2016, he was the Democratic congressional nominee for North Dakota.
From the beginning of the movement, Chase was involved on the front lines of the fight against the Dakota Access pipeline, hosting tribal leadership, providing legal services, and joining the water protectors in their prayerful and peaceful protest. Born on Standing Rock Nation, today Chase lives at Pine Ridge as an enrolled member of the Oglala Nation.
Chase holds bachelor's degrees in political science and American Indian studies from the University of North Dakota, and a Juris Doctor of Law degree with an emphasis in Federal Indian Law from the University of Denver's Sturm College of Law.
Read the program of the conference: https://www.climate-justice.earth/2021/09/28/27-october-international-conference-on-climate-justice/
Register to participate: https://forms.gle/NYC3QJ4iQMbynmB96