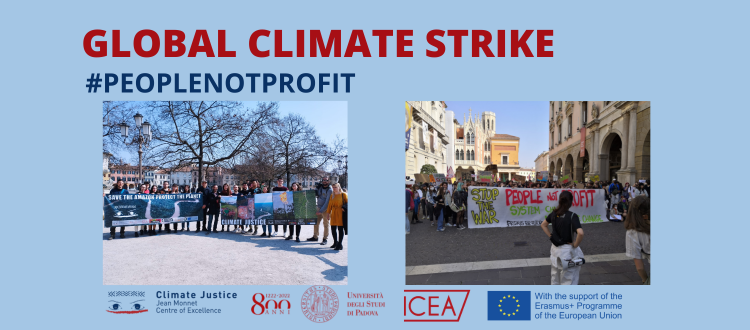 GLOBAL CLIMATE STRIKE | #PEOPLENOTPROFIT
On the 25th of March there was the Global Climate Strike #PeopleNotProfit launched by Fridays for Future.
"The catastrophic climate scenario that we are living in is the result of centuries of exploitation and oppression through colonialism, extractivism and capitalism, an essentially flawed socio-economic model which urgently needs to be replaced. A system where rich nations are responsible for 92% of global emissions, and the richest 1% of the world population are responsible for double the pollution produced by the poorest 50% […] The richest capitalist 1%,must be held responsible for their actions and willful ignorance. Their profit is our death. Their profit is our suffering." Reported the statement from Fridays for Future.
More than 800 strikes took place around the world as showed in the map published in the Fridays for Future website:
As Jean Monnet Centre of Excellence on Climate Justice we participated, here in Padua, at the demonstration reporting issues like the need for the identification of unburnable fossil fuel reserves and to start a equity and just energy transition but also the urban sustainability linked to the well-being in the urban environment.
The demonstration started in the square of train station at 9.30 am then the demonstration paraded through the streets of the city centre with dancing, music, banners and so on. The strike ended in Prato della Valle whith a sit-in and a group reflection on the current climate crisis, on what we can do as individuals to fight climate change, including the opinions of various movements that participated such as Fridays for Future Padova, Extinction Ribellion and many others.