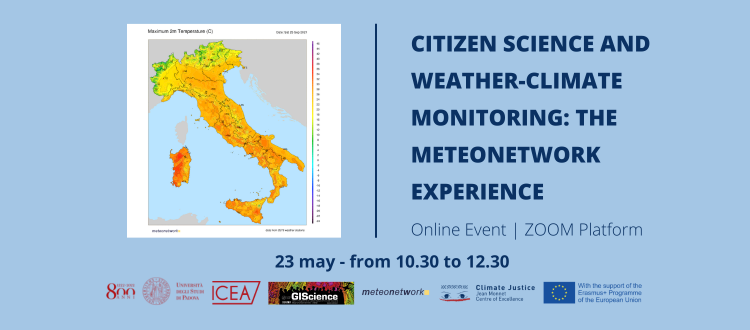 SEMINAR | Citizen Science and weather-climate monitoring: the MeteoNetwork experience
The Jean Monnet Centre of Excellence on Climate Justice (Dip. ICEA) of the University of Padua is pleased to invite all interested parties to the free event Citizen Science and weather-climate monitoring: the experience of the MeteoNetwork.
The event will be held on Monday 23 May, from 10.30 a.m. to 12.30 p.m. in dual mode (in Aula T, Dip. Icea, Via Francesco Marzolo 9 and online on Zoom platform). The seminar is organised as part of the course "Climate Change and Adaptation in Ecosystems and Society" of the Bachelor's Degree in Environmental and Land Planning Engineering.
Please note that participation in the event is free to anyone who wishes to take part and the seminar will be held in Italian. Please remember to register via the form to attend the event.
Brief description:
The aim of this thematic seminar is to expand knowledge in the area of "bottom-up" weather-climate monitoring using Citizen Science approaches. Specifically, it presents the experience of the MeteoNetwork network, which by involving and activating citizens as "active sensors" has built the largest community of weather stations spread across Italy.
MeteoNetwork is a non-profit organisation whose aim is to share and disseminate knowledge of weather and climate monitoring according to a technical-scientific approach, sharing data and maps updated in real time. With its Livemap services, models, forum and its collaborations with research organisations, Meteonetwork makes a fundamental contribution to the scientific dissemination of meteorology and climatology
Event programme:
Introduced by
Salvatore Pappalardo (Professor of "Climate change and adaptation in ecosystems and society", Dept. ICEA, University of Padua)
Massimo De Marchi (Coordinator of Jean Monnet Centre of Excellence on Climate Justice)
Speakers
Marco Giazzi (President MeteoNework)
Alessandro Ceppi (MeteoNetwork and researcher Politecnico di Milano)
N.B: All the seminar will be held in italian
Registration:
To register for the workshop, please fill in the following FORM.
The workshop will be held online via the ZOOM platform. A few days before the event, the link to access the workshop online will be sent.